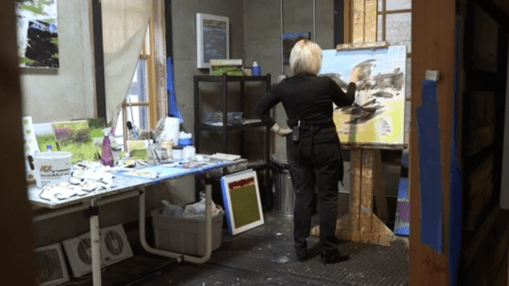 Ian Baker Johnson is an American artist living in southeastern Wisconsin. She received a Bachelor of Arts degree in Studio Painting and has since shown her work in solo and group exhibits and is in numerous collections. 
Mostly known for her landscape work, Ian explores memories and impressions of the natural world through her gestural paintings.  Usually, not of one specific place, her work is more a composite of memories and feelings experienced while traveling throughout the United States as well as Ireland, England, and other places.
Using layers of paint to create a sense of atmosphere or emotion, her work is sometimes infused with highly saturated color for an additional impact of time and place.  Her use of color sometimes rings out at maximum intensity. While not explicitly true to life, her palette is more of a conversation and interaction between space, line, color, and texture, which impact her compositions.
2019 Sacagawea Award
The prestigious Sacagawea Award (now named the Imprint Award) was created in 1982. It has been given each year since to two trailblazing women in Wisconsin for their outstanding careers and other achievements. This award also honors one artist annually who has consistently shown originality and skill in an art medium.  Ian Baker Johnson, a Wisconsin-based fine artist was chosen to receive this award.