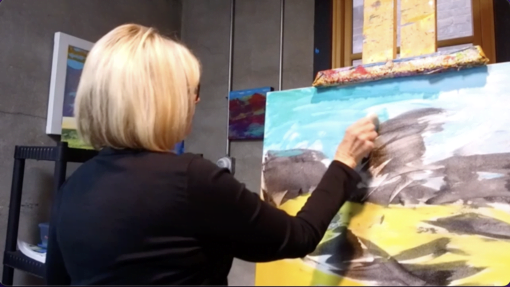 Take a look at my Portfolio here
Ian Baker Johnson is mostly known for her colorful contemporary art on canvas, paper, and board. Using a variety of large brushes and various tools, she applies paint with quick gestural strokes. As an artist who was schooled in abstract expressionism, Ian's work continues to be rooted in that as well as in impressionism, and other influences from the modern art movement.
Whether titled or untitled, Ian encourages you to interpret each piece of work from your own perspective, experiences, and/or memories. Sometimes it's a color that will trigger a deep and meaningful response in someone, and sometimes a line or a combination of gestures or marks that spark the same response. Much like we build our lives, one moment at a time, Ian's paintings are built layer upon layer, all of which work to influence the outcome. As she creates an interaction between Ian, the paint, and the painting, her work becomes a journey of discovery and wonder.
Ian holds a BFA in Fine Arts and is a member of the Southeast Chapter of the Wisconsin Visual Artists, The Museum of Wisconsin Art, Walkers Point Center for the Arts, the Milwaukee Art Museum, and MARN.
As an exhibiting artist, she has won numerous awards for her contemporary and abstract paintings and her work is in both private and public collections.